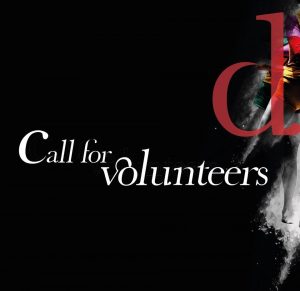 City Contemporary Dance Festival 2017 is a major contemporary dance event in Hong Kong organised by the City Contemporary Dance Company (CCDC) and supported by the Government of the HKSAR. It will be held from 21st to 26th November of 2017.
We are now calling for "CCDF Volunteers" to help the preparation and operation of the City Contemporary Dance Festival 2017.
Volunteers could meet and exchange with international and local artists, presenters and curators. Moreover, volunteers could learn from the preparatory process of the festival, where the volunteers might experience and gain some insights on different arts administration practice.
City Contemporary Dance Festival 2017 (CCDF)
CCDF consists of two main parts – performance and networking activity, in which involves "Asian Focus" showcase, "DanceX" dance art market and "HOTPOT East Asian Dance Platform". Through a series of showcases, talks and networking sessions, CCDF is bringing together internationally renowned art festival curators, organisers, critics and artists.
Date: 21 – 26 November 2017 (Tuesday to Sunday)
If you are
• passion in arts and culture (particularly dance), active and have good interpersonal skills;
• good command of spoken and written English and Cantonese / Mandarin;
• current student of any university / a graduate with a recognised university degree or equivalent qualification; OR
• people who are looking forward to join the arts & cultural industry, and people who would like to gain experience on arts project management
If you are interested in joining CCDF 2017 as volunteer, please do not hesitate to email us at info@ccdfestival.org with the following information by 25 September 2017:
– Name
– Contact number
– Organization & Job title / School & Major
– Your C.V

CCDC will host an information session on 15 September 2017 to provide information for those who are interested in joining CCDF Volunteers team.
Information session :
Date: 15 September 2017 (Friday)
Time: 1930 – 2100
Language: Cantonese
Venue: Studio 1, CCDC Dance Centre (110 Shatin Pass Road, Wong Tai Sin, Kowloon)
Please click Here to register for information session.
Job Duties :
(1) Pre-festival preparation
• Support the early preparation work of CCDF 2017
• Assist in preparation of documents related to the festival, provide administrative duties support.
• Handle logistic arrangement of the festival
• Aid in the preparation process of promotional images and videos
(2) During the festival
• Provide support to overseas and local artists and delegates on site
• Assist in the venue preparation process and help maintain the activities record
• Assist in the execution of festival events
• Assist in production team and onsite logistics
• Artist coordination
• Transportation logistics
*Remarks:
1) Successful registration for "CCDF Volunteers" information session does not mean that you have been accepted to be volunteer of CCDF 2017.
2) Interview will be arranged on 3 – 4 October to further learn about your background and interest of being "CCDF Volunteers".
3) Sucessful applicants will receive a confirmation email by 13 October 2017 (Friday).
Enquiries | Tel: 3170 9982| Email: info@ccdfestival.org
City Contemporary Dance Company reserves all rights to make final decision on any changes in venue, date, time and arrangement of the event due to unforeseen circumstances.